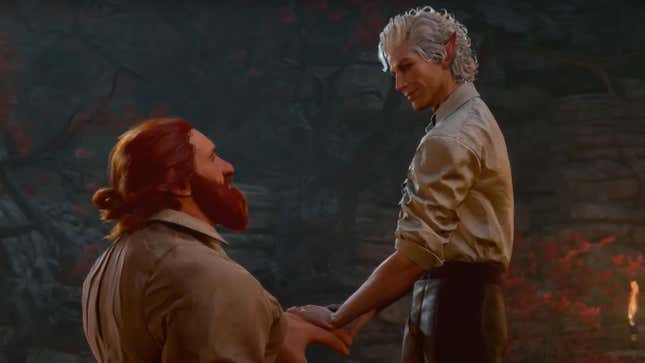 Role-playing game Baldur's Gate 3 lets players summon purple lightning and kiss parasitic Cthulhu emperors, but it won't let them give out hugs. Fans of the Dungeons & Dragons game routinely lament this small injustice, wishing badly to comfort their favorite party members during the game's sometimes devastating campaign. Developer Larian Studios has not yet addressed this chaste desire in any of its detailed BG3 patches, including the brand-new Patch #4 which went live November 2, but BG3 dataminers found evidence that hugs may eventually come to the game anyway.
11 Minutes With Baldur's Gate 3's Character Creator
"It seems we will get the hug option soon?" u/BusinessContent9507 posted with a screenshot of scripts for cinematics featuring the half-elf cleric Shadowheart.
"Finally. I thought I'd never get a hug out of you," she appears to say when hugged or when a "Skip Hug" option was ignored.
If you're Shadowheart's partner, her dialogue options after receiving a hug seem to broaden. She might say:
"I could get lost in those arms."
"Hard to imagine there was a time when I didn't have you to hold me."
"You'll have me addicted to these embraces, do you know that?"
"One hug is never enough, is it?"
Then, it looks like Shadowheart might respond to hugs from anyone—a friend or a partner—by saying, "I hope there's more where that came from," "That hit the spot," or "You could charge gold for hugs, you know. They'd be queuing over the horizon."
Read More: Latest Baldur's Gate 3 Patch Nerfs Sex Speedruns
Kotaku reached out to Larian for comment on hugs appearing as an action in BG3. There are currently several hugs featured in the game's cutscenes, but the majority happen in romantic contexts, and Shadowheart's dialogue seems to expand physical affection beyond this context.
Many BG3 hug enthusiasts have been demanding more opportunities for friendly touch, so, if dataminers are correct and hugs are in the air, people are going to lose their minds in a tub of super-sweet devotion.
"Let me hug my companions as a friend!" a Redditor with over two thousand upvotes enthused in response to the mined Shadowheart dialogue. "At least when they are in a deep pit of despair."
But, even if BG3 mostly remains a romantic game, some hugs are better than none. "I don't care how long it takes [for hugs to enter the game]," said another popular comment. "I already know the wait will be 100 percent worth it."