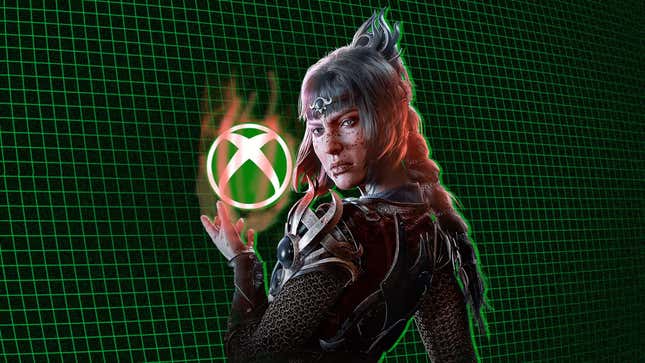 After running into some certification issues bringing Baldur's Gate 3 to Microsoft's ecosystem, developer Larian Studios has announced that the popular Dungeons & Dragons-based role-playing game is "on track" for a December release on Xbox consoles a couple months after its August 3 launch. What's more, the specific release date will be revealed early next month during The Game Awards.
The Week In Games: What's Releasing Beyond Baldur's Gate 3
Read More: Xbox Is Finally Getting Baldur's Gate 3, But With One Little Catch
Right when the game came out, there were some challenges that held Larian Studios back from dropping Baldur's Gate 3 on Xbox Series X/S. Specifically, the Series S' less-powerful hardware presented roadblocks for making the game's split-screen co-op feature possible, which was a problem because Microsoft typically stipulates that games have feature parity across both Xbox Series consoles. However, after a meeting between Larian founder Swen Vincke and Xbox head Phil Spencer, an agreement was reached, and the developers announced that Baldur's Gate 3 will come to Xbox—but without splitscreen co-op on Series S.
The team posted to its X/Twitter account on November 15 to confirm that Baldur's Gate 3 is coming to Xbox by the end of 2023 like Larian Studios had previously promised. A December release window was solidified, with the developers announcing that a World Premiere trailer at next month's The Game Awards will give us a final date for when Baldur's Gate 3 will hit Xbox consoles.
"Xbox players, we hear you're looking for more news on Baldur's Gate 3. The game is on track for a December release," Larian Studios said. "We'll see you at The Game Awards for the World Premiere™ of the exact release date."
With The Game Awards kicking off on December 7, this means we've got just a few weeks until we learn not only what game will earn the coveted Game of The Year trophy—which Baldur's Gate 3 is nominated for, along with other awards—but also when Larian Studios' extremely successful turn-based RPG will finally make its Xbox Series X/S debut.
Read More: Baldur's Gate 3, Three Months Later 
Adored by critics and fans alike, Baldur's Gate 3 has been something of a triumph for both Larian Studios and the turn-based RPG genre. Folks love the game so much, they're not only speedrunning the hell out of it, they're also creating their own new categories for interesting—and lascivious—accomplishments.