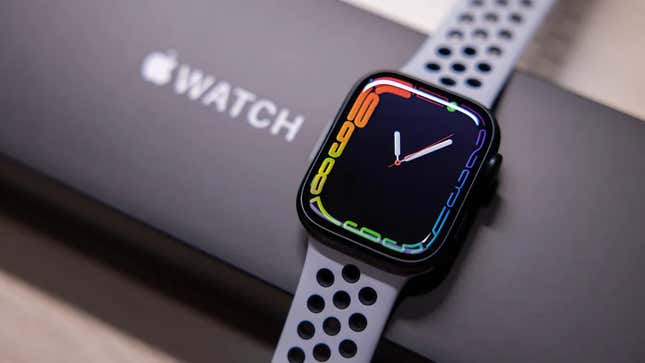 The Apple Watch is made to work with your iPhone, but you don't need your iPhone to use your Apple Watch. OK, you do need an iPhone to pair and set up the device, but following that, your Apple Watch can function as a standalone device, at least for a variety of tasks—even if you have the wifi-dependent GPS model. No, it won't be as feature-filled or useful as it is when your iPhone is within range, but there's plenty your watch can do on its own.
What you can do with your Apple Watch without your iPhone around
Many of your Apple Watch's native features will work without a connection to your iPhone. In fact, you might find you can do just about everything you need to without your phone handy, especially if you can connect to wifi every now and then. Of course, a cellular Apple Watch is going to be more useful when out and about, as it will still have a connection in places without wifi.
However, even if you have a GPS-only Apple Watch, you might be surprised at the amount you can do without your phone.
Listen to music: If you have a wifi connection, you can stream music from your watch to connected Bluetooth devices, including AirPods. Even without a connection, you can play music downloaded to your Apple Watch. (You'll just need to set this up beforehand.)
Listen to podcasts or audiobooks: You can also download podcast episodes or audiobooks to your Apple Watch using the respective iPhone apps. If you're connected to wifi, you can stream them, too.
Track workouts: You can track any workout on your Apple Watch without the need for an iPhone or a wifi connection. The data will be saved to your Apple Watch, and will be synced to your iPhone when you connect to it.
Use Health features: The Apple Watch can check your heart rate, ECG, and blood oxygen all on its own. You can also track your sleep, medications, and menstrual cycle with just the watch.
Read news: You'll need a wifi connection, but if you have one, you can catch up on news or the latest stock updates using the News app on your Apple Watch.
Record Voice Memos: You can use the Voice Memos app to record and play voice notes.
Use Apple Pay: This is a surprising one, but once set up, you can use Apple Pay on your Apple Watch to make purchases without your iPhone or a network connection.
Use transit cards: Similarly, you can use your Apple Watch in place of transit cards and student IDs without any network connection.
Find people or devices: The Find My app can help you locate people, devices, or AirTags, without a network connection.
Measure sound levels: Keep tabs on dangerous sound levels using the Noise app.
Make phone calls: If your carrier offers wifi calling, you can use your Apple Watch to make cellular calls, even without your iPhone nearby. And, of course, you can make FaceTime Audio calls to anyone as long as you're connected to wifi.
Download apps: You can download Apps directly to your Apple Watch from the watchOS App Store.
Send Messages: You can send an iMessage from your Apple Watch.
Control your smart home: Using the Home app, you can control smart home accessories.
Use any app that supports wifi: Any third-party app that needs a network connection will be available over wifi as well.
Use Walkie-Talkie: You can use the Walkie-Talkie app to talk with other Apple Watch users.
Check the weather: The Weather app will work with a wifi connection.
Configure wifi networks: If you're in a new space with just your Apple Watch, you can connect to their wifi network without needing your iPhone to do so. You can also forget networks if you don't want to connect in the first place.
The next time you head out, try leaving your iPhone at home, if you can—your Apple Watch might be more than capable of doing what you need it to do, without all the distractions that comes with a computer that fits in your pocket.