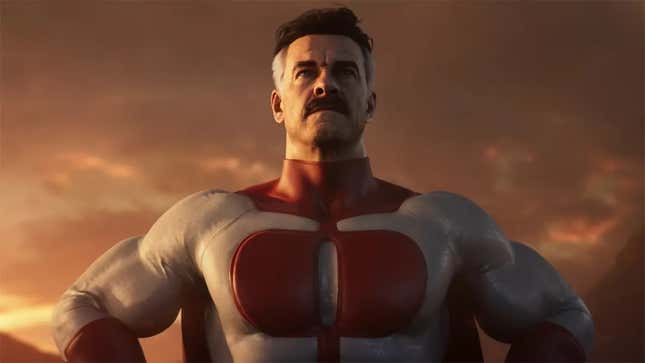 Everyone's favorite super-powered sociopathic dad from Invincible joined Mortal Kombat 1 today and he appears to be equal parts overpowered, broken, and fun. Between his lightning-quick movement, wild combos, and iconic fatality, players seem to love the mustachioed villain, or hate him for being kind of busted.
The Week In Games: What's Coming Out Beyond Mortal Kombat 1
Added to Mortal Kombat 1 in the November 9 patch for players who bought the premium edition or Kombat pack, Omni-Man will go live for everyone else on November 16. In the meantime, players , with "early access" are feeling the newest roster addition oui, testing his defenses, quirks, and flashy animations. Do Omni-Man's fatalities include that infamous moment from the comics and recent Amazon TV adaptation? Why yes, yes they do.
Buy Mortal Kombat 1: Amazon | Best Buy | GameStop
Elsewhere, players have been showing off some very powerful combos as they link Omni-Man up with various Kameo moves. "I found this pretty ridiculous nonsense with Omniman and Goro kameo," wrote one player in gameplay shared on X (formerly known as Twitter). "I was able to get +13 on block…armor breaks…loops…stupid damage…Omniman." Others have shared similarly devastating sequences.
Some of Omni-Man's animations are really cool looking, and also possibly bugged. Ground stomps have sent some opponents flying off the screen. And his back dash appears to move the entire frame, forcing other players to follow him across the stage. Omni-Man's supposed to be powerful but not that powerful.
Mostly players just seem to be having a good time seeing what the new character is capable of and completely destroying opponents with him. The next few days will show if he's really unbalanced or fans just haven't found the best ways to counter him yet, though some of his associated bugs have players complaining that the state of Mortal Kombat 1, which was released in September, is still a bit too rough around the edges.
Omni-Man is hardly the only new addition on the way. Homelander from Amazon's The Boys is also getting added later this year. And at the rate Mortal Kombat 1 is trying to sell new content, from costumes to Halloween fatalities, I'm sure the high-profile crossovers will continue.
Buy Mortal Kombat 1: Amazon | Best Buy | GameStop
.