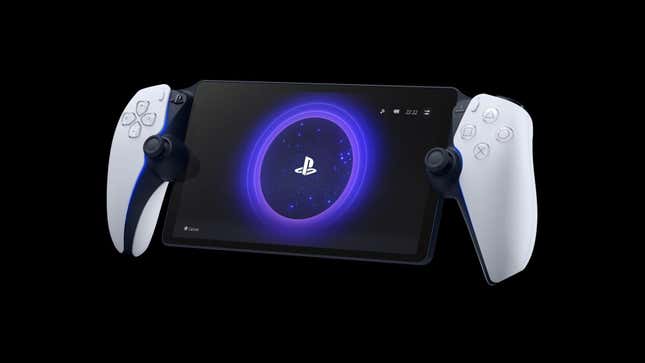 The PlayStation Portal, Sony's new handheld streaming device that lets you play PlayStation 5 games on a tablet-like screen, has sold out just two days after its November 15 launch. As a result, inflated resale listings are popping up in all the usual places.
Thank You, PS Plus, For Making My Backlog Even Bigger
Typically, the PlayStation Portal will run you $200 if you buy it at its retail price, but the device has already sold out through official channels like Sony's internal store. So, scalpers have once again jumped on the opportunity to sell it for more than it's worth on sites like eBay. (Thanks Eurogamer). As of this writing, most listings range from $300 to around $350, and the higher end of those is almost twice as much as the device actually costs.
For most people looking for video game hardware, this song and dance is nothing new. Nearly every time a coveted video game device launches, stock scarcity and reseller price gouging happens. There's not enough supply to satisfy demand, predatory people buy and sell them online. The PlayStation 5 was dealing with scarcity issues for years after its 2020 launch and the units that resellers got their hands on were being listed for twice its $500 price. So it's only natural that PlayStation Portal would become part of this cycle, as well.
Valve is trying to minimize this with the new OLED Steam Deck, which requires a Steam account in "good standing" that's made a purchase on the store before November 1 to pre-order. This was before the announcement of the device, so resellers didn't have a window to create accounts between the news and when pre-orders went live.
Kotaku reached out to Sony for comment.
The PlayStation Portal is essentially a tablet with DualSense-like grips on the side. It looks silly, but it actually feels pretty good to hold compared to a Switch, and games look great on its screen. However, as we point out in our review, it is not a Switch-style device that lets you play PlayStation 5 games on the go. The PlayStation Portal is an accessory to the console that lets you play games on a handheld device through a Wi-Fi connection, so the use case will vary depending on your home setup. I could see it being useful to people who have a PS5 in their living room and want to play in bed, or are trying to free up the TV for someone else to use, but your mileage will vary depending on what you're trying to get out of it.